MANGO PINEAPPLE
Arawak Mango Pineapple flavoured rum- Rum Punch 70 cl 32%
Arawak Mango Pineapple flavoured rum
The Arawak Mango Pineapple flavoured rum is outstanding! It combines the mango, an exotic fruit symbol of love and prosperity, with the Victoria pineapple, itself being a symbol of prestige, once the fruit of kings.
Indeed, Queen Victoria loved to eat this pineapple, hence its name Victoria Pineapple.

Arawak rigorously selects the mangoes and pineapples used in its recipes. The fruits are put in barrels with white agricultural rum immediately after being cut, in order to reveal all their flavours and thus ensure you a flawless quality.

The Arawak Mango Pineapple flavoured rum can be enjoyed as an aperitif or as a liqueur thanks to the tropical sweetness of the mango and the roundness of the pineapple.

Nose : fruity and exotic
Palate : soft and silky

Composition : white agricultural rum from Guadeloupe, Victoria pineapple, mango, Bourbon vanilla bean, sugar cane
The best way to taste Arawak Mango Pineapple Flavoured Rum is …


In a glass :
3 mint leaves
1 tbsp. cane syrup
3/4 Oz (2 CL) fresh orange
Crush slowly.
Add 2 Oz (6 CL) Arawak Mango Pineapple Flavoured Rum.
Stir and add crushed ice.

Decorate with mint.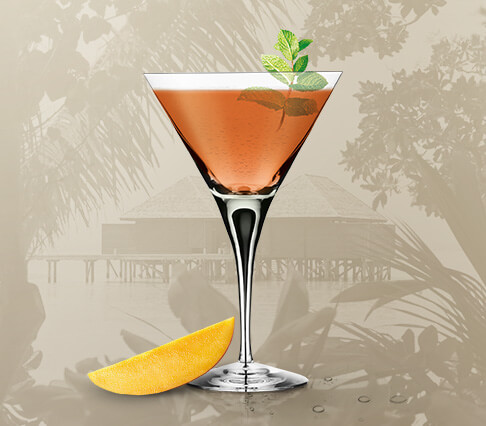 No customer reviews for the moment.