RASPBERRY LITCHI
Arawak Raspberry Litchi flavoured rum- Rum Punch 70 cl 32%
Arawak Raspberry Litchi flavoured rum
The Arawak Raspberry Litchi flavoured rum is a true elixir with a perfect balance that combines the rose flavour of the lychee with the delicate scent of the raspberry, a delicious and refined fruit.

Indeed, the lychee is a tropical fruit whose floral fragrance allows the raspberry to reveal all the richness of its slightly tangy taste.

Arawak chooses raspberries of unrivalled quality and juicy lychees and leaves them tomarinate for weeks in quality white agricultural rum.

Arawak Raspberry Litchi flavoured rum can be enjoyed with either sweet or savoury meals, due to its slightly tangy taste.

Nose : fragrant and satiny smooth
Palate : sweet and scrumptious

Composition : white agricultural rum from Guadeloupe, raspberry, litchi, sugar cane
The best way to taste Arawak Raspberry Litchi Flavoured Rum is …



In a mixer :
12 crushed raspberries
5 ice cubes
1 1/2 Oz (4 CL) Arawak Raspberry Litchi Flavoured Rum
1/2 Oz (1 CL) fresh lime
1 tbspn cane syrup
Mix.
In a glass, add 4 ice cubes and filter the contents of the mixer with a pulp strainer.
Pour some soda water.

Decorate with a slice of lime.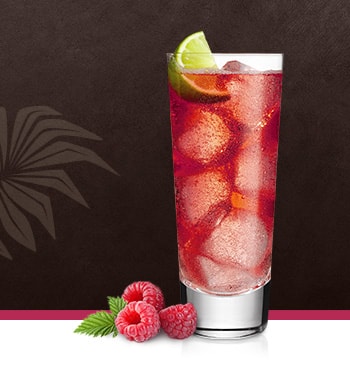 No customer reviews for the moment.